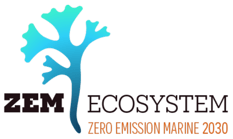 Welcome to the virtual launch event of Zero Emission Marine programme and ecosystem!
WHERE AND WHEN?​
Thursday, April 7th 2022, at 13.00–16.00 EEST​
Online webinar, you will get a link when registered
Zero Emission Marine is a research, development and innovation project co-funded by Business Finland through the challenge competition for leading companies and by Wärtsilä. The project enables a zero-emission marine ecosystem for the development of sustainable technology solutions. The project aims to reduce greenhouse gas emissions from the marine sector by 60% by 2030 through unique maritime co-operation and all products from the ecosystem will be carbon-neutral or carbon-negative by 2050.
The launch event provides a comprehensive outlook to the Zero Emission Marine mission, streams and ecosystem co-operation opportunities through presentations and workshops. The project aims to create an ecosystem of over 200 organisations to drive the R&D for sustainable solutions. Register by Tuesday 5th April through the form and come hear what the project is about and how you can participate.
AGENDA
13.00–13.10 Introduction to Zero Emission Marine
Hannu Mäntymaa, Vice President Performance Service, Wärtsilä
13.10–13.30 Keynote
Elina Andersson, Secretary General, Finnish Marine Industries
13.30–13.40 Veturi & opportunities for international networking and collaboration
Riku Mäkelä, Counsellor, Innovation and Trade Affairs, Embassy of
Finland, Singapore and Esa Lindqvist, Ecosystem lead, Business
Finland
13.40–14.20 Introduction to Zero Emission Marine themes by work package leaders
Technologies enabling introduction of green fuels: Kaj Portin,Wärtsilä
Green fuel production: Kenneth Widell, Wärtsilä
Automated and optimized operations: Lauri Kovanen, Wärtsilä
Outcome based business model: Juho Nurmi, Wärtsilä
Q&A session
14.20–14.35 Experiences from Nokia Veturi programs
Jarkko Pellikka, Program Director, Industrial 5G, Nokia
14.35–15.00 Coffee break + networking in breakout rooms
15.00–15.45 Thematical workshop
(please choose your preferred workshop theme at registration):
Technologies enabling introduction of green fuels: Kaj Portin, Wärtsilä
Green fuel production: Kenneth Widell, Wärtsilä
Automated and optimized operations: Lauri Kovanen, Wärtsilä
Outcome based business model: Juho Nurmi, Wärtsilä
15.45 – 16.00 Wrap-up, Kenneth Widell, Wärtsilä

Technologies enabling introduction of green fuels
This work package focuses on the development of engine technologies for engines running on green fuels as well as energy storage systems
Hydrogen Internal Combustion Engine

Ammonia Internal Combustion Engine

Methanol and ethanol ICE concepts

Technologies, testing and approving the use of various blends

Aftertreatment

Energy Storage systems for the Marine and Energy Markets

Green fuel production
In this work package different green fuel solutions related to Power-to-X and Bio-to-X are developed and piloted
Carbon Capture, Storage and Utilization Technologies

Hydrogen production technologies

Ammonia production technologies

Hydrogen carriers for storage and logistics

Sustainable feedstock alternatives for biofuels

Bio & Synthetic Blends for green transition

Automated and optimised operations – increased level of autonomy
This work package drives automated and optimized operations for the vessel and ecosystem, increasing level of autonomy
Platform enabling cloud applications

Optimization and "autonomous ready" models, APIs for quantifying vessel and ecosystem level energy usage and emissions

Integrations and data sources

Applications for automated, connected and

optimized

operations

Outcome based business model – OBBM
In this work package different commercial models related to the roll-out of green technology product portfolio are developed
Optimization

of engine and vessel efficiency and emission reduction

Optimized

usage of vessel enabling emission reductions

Fuel savings resulting in emission compliance

Financing and risk management

Extending business models over the whole lifecycle